Scratch Resistance Testing
| | |
| --- | --- |
| | A range of products designed to allow the user to measure a coating resistance to scratching. |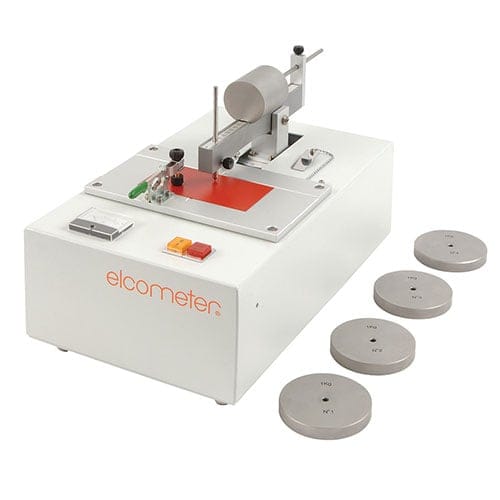 Using the same principles as the Elcometer 3000 Manual Clemen Unit, the motor brings the tool gently in contact with the sample, whatever the load, variable from 0 to 5000g (176.4oz), moves across the coating and then gently lifts it with the automatic Start/Stop function.
The contact of the tool with the metallic substrate is indicated by a lamp and voltmeter. This unit has a significant benefit over the manual version as more repeatable and reproducible results can be obtained due to the uniformity of both speed and movement.
---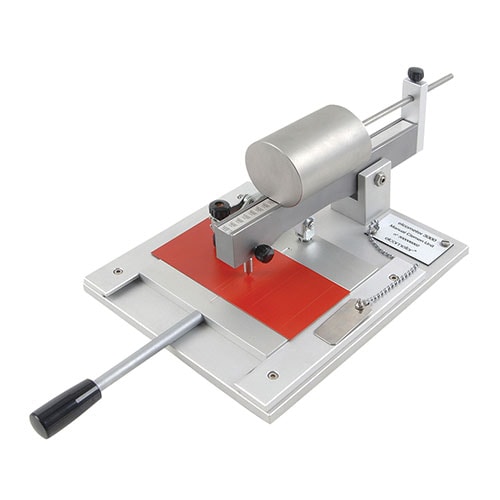 Designed to evaluate resistance to scratching, a tool is fitted with an hemispherical end of 1mm (0.04") diameter (standard), lowered gradually on to the surface of the sample and moved 60mm (2.36"). The sample width must be approximately 75mm (2.95").
Depending on the load applied, varying degrees of penetration of the tool into the coating are observed, from a superficial trace to total destruction. As the sample is pulled by hand, the tool lowers on to the sample, moves along it and gently rises up.
---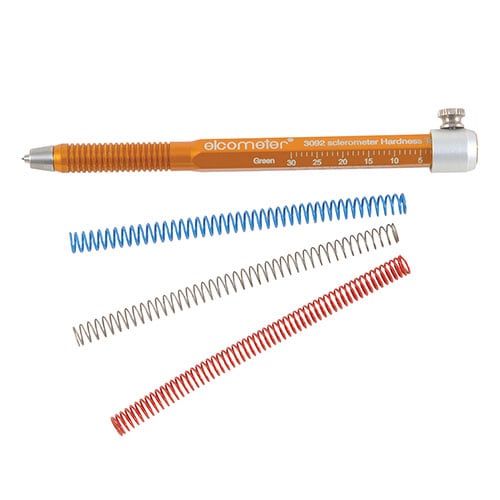 The Elcometer 3092 Sclerometer Hardness Tester measures the hardness of a coating by moving a Tungsten Carbide Tip over the coating with predetermined force.
The body of the hardness testing instrument contains a cursor fitted with a screw lock and a round tip, compressed by one of the four springs corresponding to the four printed scales:
Grey spring: 0-3N (0.671lbF)
Red spring: 0-10N (2.248lbF)
Blue spring: 0-20N (4.49lbF)
Green spring: 0-30N (6.74lbF)
The spring force can be set by the "collar"; compressing the spring increases the force with which the tip is pushed on to the surface of the test piece.
By making short, straight movements while gradually increasing the load, the user can observe the force at which the tip leaves a mark or destroys the coating.
---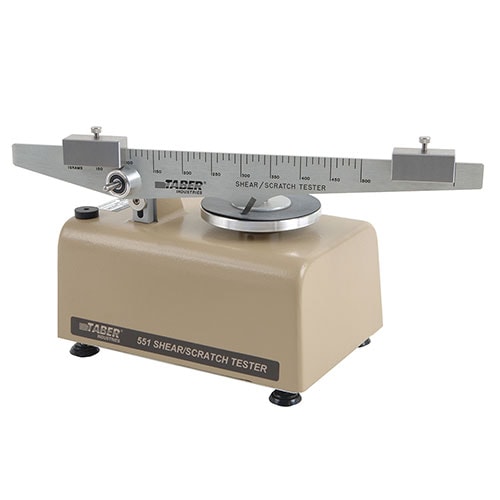 The Elcometer 3025 is a motorized device to test the resistance of many materials to scratching, shearing, gouging, marring, scraping and engraving. This portable instrument tests materials up to 12.7mm (½") thick by 101mm (4") square or round.
The height of the scale beam is adjusted by the user to match the thickness of the sample. The tool, a conical diamond tip, is then placed on the sample and the instrument is activated by the user with the On/Off switch.
The tip leaves a trace mark and the extent of this, in relation to the load used, indicates the degree of hardness.
The turntable rotates at a constant 5rpm to ensure repeatability and reproducibility of tests. By changing the load on the tool, from 0 - 1000g (0 - 2.2lb), the sample's resistance to deformation can be evaluated.
---