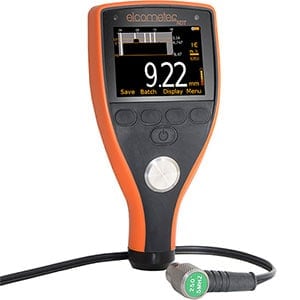 Ultrasonic thickness gauges are used to accurately determine the thickness of a variety of materials when only one side is accessible - ideal for monitoring corrosion and erosion.
Converting the time of flight of pulse of sound energy, sent into and reflecting back from a defect or opposite surface, ultrasonic thickness gauges are ideal for measuring a material's thickness and detecting pits and flaws in a material without damage.
A coated surface may disguise defects in the substrate beneath; the wall thickness of a pipeline, for example, may have been eroded by the flow of the material inside.
Likewise the walls of a storage tank may appear acceptable on the outside but be dangerously thin inside due to the corrosive chemicals stored within.
From a steel thickness gauge to a gauge which ignores the thickness of the coating, Elcometer has a range of ultrasonic material thickness gauges to meet you specific requirements.
Ergonomic, rugged, accurate and easy to use, the Elcometer MTG & PTG range of ultrasonic Material and Precision thickness gauges is ideal for measuring and recording material thickness from just 0.15mm (0.006") to 500mm (20").
With a scratch and solvent resistant display, sealed, heavy duty and impact resistant design - dust and waterproof equivalent to IP54 - the MTG and PTG range is suitable for use in the harshest of environments.
The Elcometer NDT MTG range has a number of measurement modes available to help the user establish the most accurate thickness value.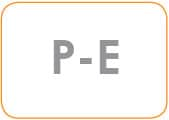 Pulsed - Echo Mode (P-E):
Ideal for pit and flaw detection, the total thickness from the base of the transducer to the material density boundary (typically the back-wall) is measured.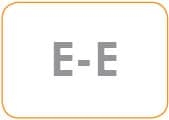 Echo - Echo ThruPaint™ Mode (E-E):
Also known as ThruPaint™ mode, the coating thickness is ignored and the material thickness from the top surface of the material to the material density boundary (typically the back-wall) is measured. To use Echo-Echo ThruPaint™ mode, a high damped, coating thickness transducer is required.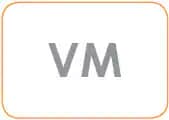 Velcocity Mode (VM):
Velocity mode measures the speed of sound of materials and is ideal for determining the homogeneity of a material/alloy and the correct velocity of a material for calibration.