Surface Contamination
Surface contamination comes in many forms and Elcometer offers a complete range of products to comply with your testing specification. Our most popular test kits are those that quantify salt levels. Salts are comprised of chlorides, sulfates, and nitrates - which all contribute to the conductivity of a solution. Elcometer offers several conductivity testing kits including our newest instrument, digital Elcometer 130 Salt Contamination Meter, and the Bresle path method.

Elcometer also offers the first field tests for uncured Amines with the Elcometer 139 Amine Blush Chip Screen Test Kit and Elcometer 139 Amine Blush Swab Test Kit. These tests offer a rapid colorimetric test designed solely for the use in the quick and immediate qualitative identification of amine blush (carbamates) on the surface of coatings. These kits are the first commercially Amine Blush test kits that eliminate the possibility of false positive results due to the pH levels.

The Elcometer 142 Dust Tape Test kit allows assessment of the quantity and size of dust particles on surfaces prepared for painting. A necessary part of complying with this standard is the Elcometer 145 Dust Tape Roller which presses the Elcometer 142 Dust Tape to the surface using a controlled constant force as required by BS EN ISO 8502-3 (BS 7079-B3:1993).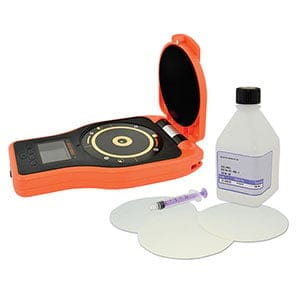 The Elcometer 130 Salt Contamination Meter quickly and accurately measures the level of soluble salts on surfaces.
Fast reading rate allows multiple tests to be completed efficiently
Pressure plate ensures a constant and uniform pressure to paper
Automatic detection of paper size and automatic adjustment of reading value
USB and Bluetooth® data output to ElcoMaster™ 2.0 software
Dust and water resistant rugged design equivalent to IP64
Automatic temperature compensation ensures accurate results
Non-oxidising gold plated contacts ensures lifetime accuracy
Stores up to 150,000 readings in 2,500 alpha numeric batches
Fully portable hand-held, ergonomic design ideal for use in the field
---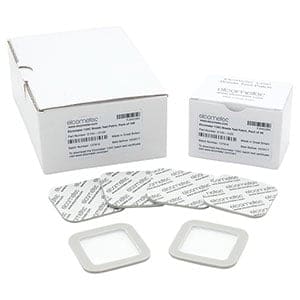 The Bresle method uses the difference of conductivity of salts in water, each salt having a characteristic conductivity-versus-concentration relationship. The correlation between concentration and conductivity can be found in "Handbook of Chemistry and Physics". The relationship is useful if the dissolved salt is known. Sodium chloride, the main salt in sea water, causes a big increase in conductivity with increased concentration.
The patch is applied to the surface to be tested, and a specified volume of deionized water is injected under the patch. Any soluble salts present on the surface will dissolve in the water. The fluid is extracted and its conductivity measured.
---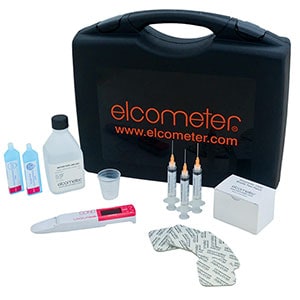 It is essential that the level of contaminates on a surface is measure prior to application of the coating to ensure the quality of the coating and that its optimum lifetime is achieved.
If the coating is applied to a contaminated surface, which is not properly prepared it could fail prematurely resulting in costly re-coating and high maintenance costs.
---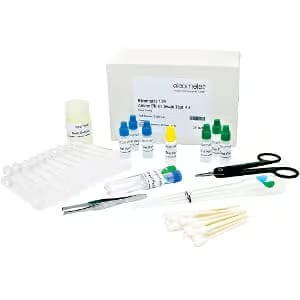 Amine blush can develop when using amine cured epoxy resin coatings in a multi-layer system, if the original coating cures in a low ambient temperature and/or in a high humidity environment, problems. The presence of amine blush can lead to inter-coat adhesion failures if the film is re-coated.
---
Chloride ions on steel surfaces increase the probability that corrosion of the steel will take place even if a protective coating is applied. Chloride ions trapped under a coating in the presence of steel and moisture will form a corrosion cell. This corrosion process will result in premature failure of the protective coating and may cause blistering of coatings in immersion service.
---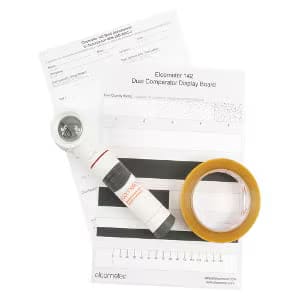 A dust tape test allows assessment of the quantity and size of dust particles on surfaces prepared for painting. Dust on blast cleaned surfaces can reduce coating adhesion, leading to premature coating failure and sub-standard coating finish.
Used in conjunction with the Elcometer 145 Dust Tape Roller the Elcometer 142 Dust Tape Test kit can be used in accordance with the recommendation of BS EN ISO 8502-3 either as a pass/fail test or as a permanent record of the presence of dust. Supplied in a carry case for use in the field to assess surface cleanliness.
---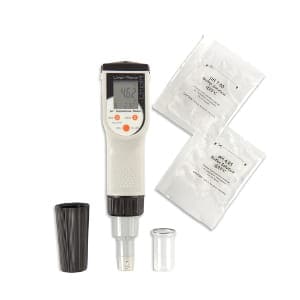 Determine if a solution or surface is acid of alkaline in nature. Acids form when certain gases are dissolved in water, for example chlorine in water produces hydrochloric acid, carbon dioxide in water produces carbonic acid, sulfur dioxide in water produces sulfuric acid all of which are corrosive to steel.
The presence of these contaminants can either be detected in a solution washed from the surface of by putting a wet pH test strip on to the dry surface. pH does not measure the concentration but it does indicate how acidic or alkaline the surface is. Alkaline surfaces are normally associated with either concrete surface that are to be coated or steel re-enforcement bar buried in concrete.
---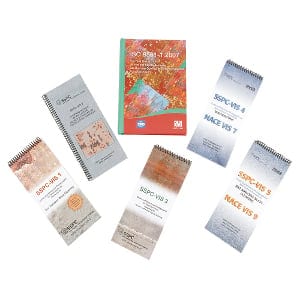 Elcometer's range of Surface Standards, covers most of those required for surface cleanliness. They include: The Swedish standard, the British standard and the SSPC standards vis 1 and vis 3.
---