Ultrasonic NDT
High performance ultrasonic testing equipment with the reliability and technical expertise you've come to expect from Elcometer.

With their ergonomic sealed metal cases, water and dustproof membrane keypads and a wide range of ultrasonic transducer probes, capable of measuring materials at temperatures up to 482°C (900°F), the Elcometer NDT material thickness, precision thickness and flaw detection gauges are the ideal ultrasonic instruments for measuring material thickness, sound velocity and detecting a wide range of flaws in a broad range of industry applications, including the oil & gas, marine, transport, power and civil engineering sectors.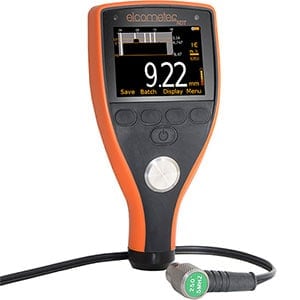 Ergonomic, rugged, accurate and easy to use, the Elcometer MTG & PTG range of ultrasonic Material and Precision thickness gauges is ideal for measuring and recording material thickness from just 0.15mm (0.006") to 500mm (20").
With a scratch and solvent resistant display, sealed, heavy duty and impact resistant design - dust and waterproof equivalent to IP54 - the MTG and PTG range is suitable for use in the harshest of environments.
The Elcometer NDT MTG range has a number of measurement modes available to help the user establish the most accurate thickness value.
---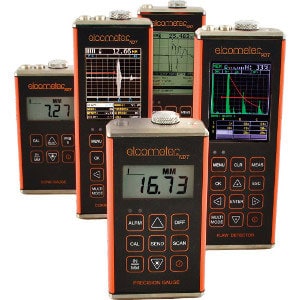 Everything from the low cost CG10 corrosion thickness gauge, providing users with the ability to measure up to 500mm (20") of a user defined material; to the state of the art model CG100ABDL+, complete with an A & B Scan display, colour screen, 210,000 reading memory and the ability to measure the coating and material thickness individually or at the same time.
---
With their ergonomic, rugged design, pin point accuracy and easy to use menus in multiple languages, the Elcometer PTG (Precision Thickness) range of ultrasonic thickness gauges is ideal for measuring and recording material thickness from just 0.15mm (0.006") to 500mm (20") and sound-velocity on a variety of substrates in a wide range of industrial applications. The principle advantage of ultrasonic measurement over traditional methods is that ultrasonic measurements can be performed with access to only one side of the material being measured.
The PTG range have a measurement accuracy of ±1% and a measurement range of 0.15mm - 10.15mm (0.006 - 0.400") in Echo-Echo (E-E) mode and 1.65mm - 25.40mm (0.065 - 1.0000") in Interface Echo (I-E) Mode.
Accurate and repeatable readings can be taken on smooth, rough and curved, coated or uncoated surfaces. The stability indicator provides a visual indication of both the strength and reliability of the ultrasonic signal.
---
Hand held or Bench top these value for money ultrasonic flaw detectors provide users with all the measurement tool kits expected from larger, more expensive products on the market, as well as the benefits of high end corrosion thickness gauges.
---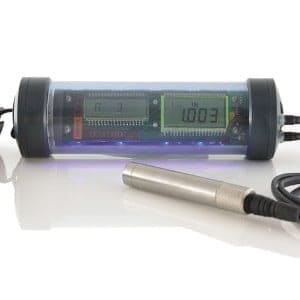 Underwater material and coating thickness gauge ideal for offshore inspections.
---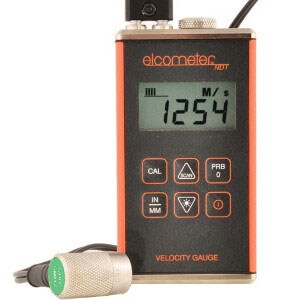 Ideal for determining the speed of sound (velocity) of an unknown material or as a device to assess the homogeneity of a component of known thickness.
---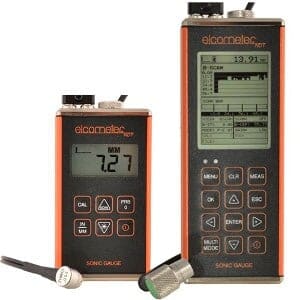 The SG80 series of sonic thickness gauges have been specially designed for the automotive industry.
Commonly used for measuring the thickness of cylinder walls, intake or exhaust ports, chassis, tubing, body panels, and windscreens. It also has the ability to scan the length of a part to find the minimum thickness.
---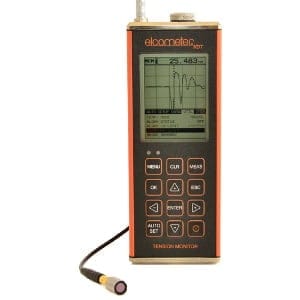 The BG80 Series of Bolt Tension Monitors ultrasonically measures the elongation, load, stress and %strain of a bolt under load.
---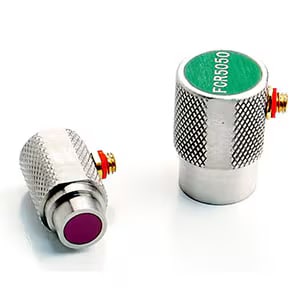 Elcometer NDT offer a full range of bolt gauge transducers to ultrasonically measure the actual elongation produced by tightening a threaded fastener
---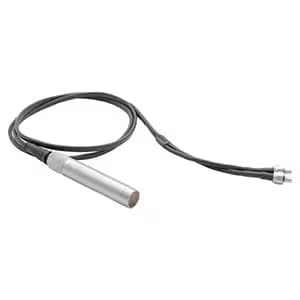 Elcometer NDT offer a full range of underwater material and coating thickness transducers, available with single membrane and dual elements, ideal for offshore inspections.
---