Coating Thickness - Dry Film
Knowing the coating thickness of dry film is a critical measurement in the coating application process. It provides vital information as to the expected life of the substrate, the product's fitness for purpose, its appearance and ensures compliance with a host of International Standards.

Quality systems, such as those described in ISO 9000, ISO 17025 and Guide 25, require that gauges be properly controlled, logged and in calibration. Increasingly, users are specifying that the readings taken by gauges are traceable to National Standards.

In 1947, before the introduction of consumer electronics, Elcometer launched one of the world's first non-destructive coating thickness gauges, the Elcometer 101.

For more than 6 decades, Elcometer have been world leaders in coating inspection and coating thickness measurement, offering a wide range of accurate digital and mechanical dry film thickness gauges.

Elcometer's latest innovation, the new Elcometer 456 sets new standards in coating thickness measurements. Available in a range of models for measuring dry film thickness on ferrous & non-ferrous metal substrates, the new Elcometer 456 is even more powerful, rugged and easier to use than ever before.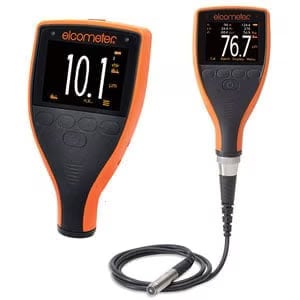 The Elcometer range of digital coating thickness gauges has been specifically designed to provide highly accurate, reliable and repeatable coating thickness measurements on almost any substrate, whether ferrous or non-ferrous.
Dry Film Thickness can be measured on either magnetic steel surfaces or non-magnetic metal surfaces such as stainless steel or aluminium using a digital coating thickness gauge. The principle of electromagnetic induction is used for non-magnetic coatings on magnetic substrates such as steel. The eddy current principle is used for non-conductive coatings on non-ferrous metals substrates.
Elcometer offer a range of digital coating thickness gauges from the new Elcometer 456 - available with either integral or separate probes, the Elcometer 415 Paint and Powder Thickness Gauge, to the Elcometer 311 Automotive Refinishing Gauge.
---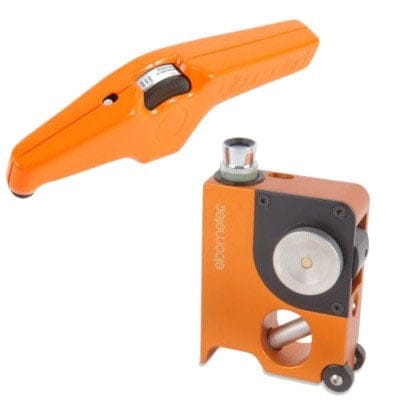 Mechanical coating thickness gauges are still widely used, particularly in areas where no electrical instruments are permitted or high temperatures prevail.
Elcometer offer a wide range of destructive and non-destructive mechanical coating thickness gauges suitable for wet and dry film thickness.
---
The Elcometer range of dry film thickness probes, provide reliable and accurate coating thickness measurements on almost any metal substrate, whether ferrous or non-ferrous.
These probes expand on the technology of the Elcometer 456 and Elcometer 355 gauges, and provides each gauge with the diverse versatility required to get the job done.
Are you new to the coating thickness industry, or would simply like more information on our gauges? View our page on learning more about Elcometer Coating Thickness Gauges.
Having trouble deciding which probe is the correct choice? Read our page on choosing the correct probe for coating substrates.
---
Foil sets, zero plates and coated thickness standards. Calibration foils are required to verify the accuracy of measurements.
Calibration foils or 'shims' are the most convenient way of creating a coating thickness standard on the substrate material, surface finish or form. This is the ideal method for adjusting the calibration of the coating thickness gauge to ensure the greatest possible accuracy.
---