Film Application
For numerous products, such as paint, ink, varnishes, glue and cosmetics, the reliability of many laboratory tests is directly related to the quality and consistency of the samples. To ensure repeat-ability and reproduce-ability, any measurements made on such coatings, whether for the purpose of describing their physical properties (drying time, elasticity, abrasion etc.) or their appearance, (gloss, color, shade, etc.) are made on the basis of uniform and comparable samples with precisely controlled thickness.

In order to meet such specific demands, Elcometer has a wide range of high precision film applicators and spiral bar coaters for greater repeat-ability and reproduce-ability when undertaking a large number of sample tests.

For the greatest repeat-ability and reproduce-ability, manual application is not sufficient as speed and smoothness of flow are also critical factors. Elcometer's range of Motorized Film Applicators has been designed specifically to ensure:

constant speed
smoothness of operation - ensuring no jerks which create ridges and variation in thickness
repeat-ability and reproduce-ability every time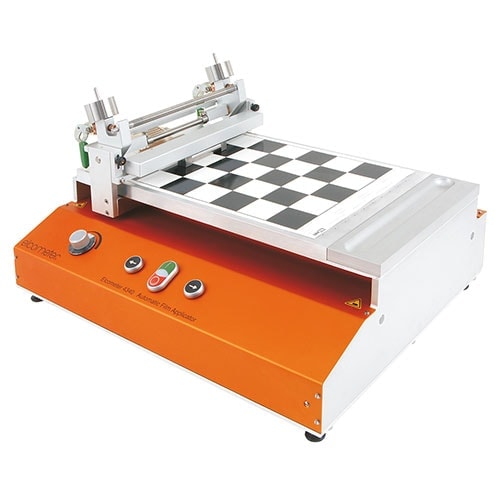 An essential machine for preparing a wide variety of product samples including paint, varnish, cosmetics, glue, etc. with total consistency and reproduce-ability on various substrates including contrast charts, sheet steel, plastic foils and glass. All Elcometer 4340 models have 11 preset speeds and adjustable stroke length with quick release system.
Ideal for testing paint, varnish, cosmetics, glue etc.
11 preset transverse speeds, from 0.5-10 cm per second
Sample temperature control option
High quality samples produced for highly reliable laboratory testing
Smooth aluminium table - much smoother than glass - for better repeat-ability
Can be used with Elcometer Film applicators
Wide range of standard and high precision perforated and channeled vacuum tables
Adjustable travel carriage with "stop" at end of travel
---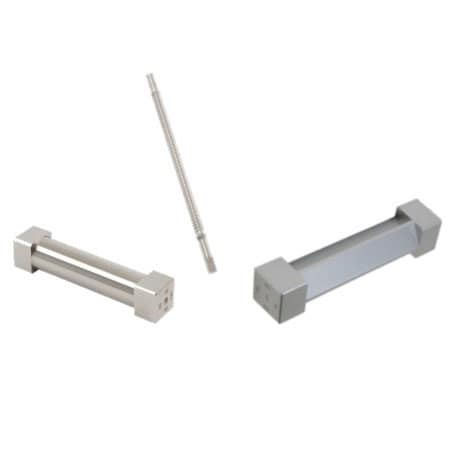 An extensive range of readily available applicator tools to suit all standard requirements.
For numerous products, such as paint, ink, varnishes, glue and cosmetics, the reliability of many laboratory tests is directly related to the quality and consistency of the samples.
Any measurements made on coatings for the purpose of describing their physical properties (drying time, elasticity, abrasion gloss, color, shade, etc.) are made on the basis of uniform and comparable samples with precisely controlled thickness.
In order to meet such specific demands, Elcometer has a wide range of high precision film applicators and spiral bar coaters.
---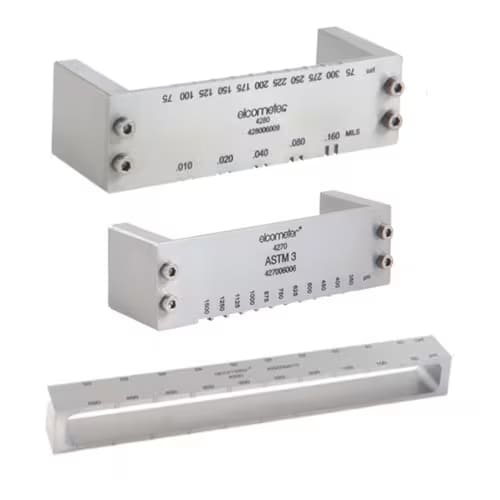 Made of stainless steel, the straight scraper has adjacent notches of increasing clearance. After the product has been spread, the contrast chart is immediately placed in vertical position, with the thinnest film at the top. The thickness at which the strips join indicates the tendency to sag.
---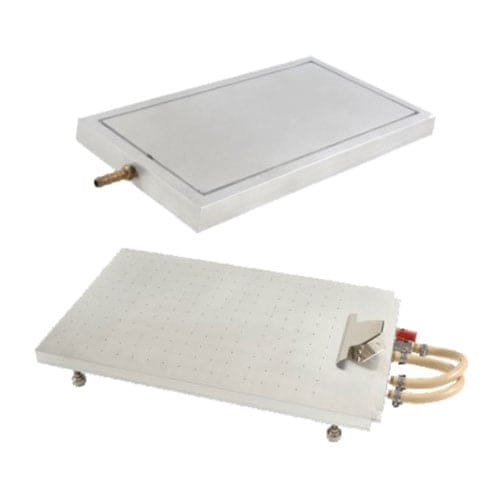 Elcometer offers a comprehensive range of vacuum tables to provide an ideal surface for manual application of films on test charts or samples and is available in two formats:
The Elcometer 4800 - this aluminium table with a channel around the edge holds flexible test pieces, e.g test charts, plastic film and paper, absolutely flat (2.3µm variation over a 100mm length).
The Elcometer 4900 - made of perforated aluminium, keeps a wider range of test pieces absolutely flat (2.3µm variation over a 100mm length), including glass, plastic sheets, contrast charts etc.
The perforated version is suitable for thicker, more substantial test pieces. The channel version is suitable for thinner materials such as plastics and films which may distort under the perforated version method.
---