Inspection Kits
Elcometer offers one of the widest ranges of inspection equipment available.

Our products are used across numerous industry sectors. In all cases, there is always a need to undertake a number of specific inspections during quality control assessments - as one parameter can affect another. For example, the thickness of an applied coating can affect properties such as adhesion, gloss, color and porosity.

Elcometer has put together a series of industry and product specific inspection kits - combining a number of gauges from our range. Each kit is supplied in a convenient sturdy plastic carry case, ideal for transporting to and from the inspection site.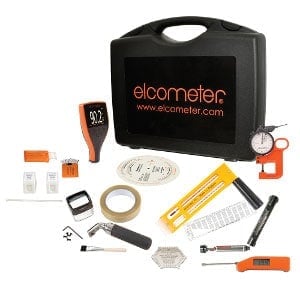 The Elcometer range of Protective Coatings Inspection Kits provide all the tools required for onsite inspection of a coating, including surface profile, dewpoint, relative humidity, adhesion and both wet and dry film thickness.
Available as metric or imperial kits and housed in a sturdy, light-weight carry case, Elcometer Protective Coatings Inspection Kits are invaluable to the operator in the field to ensure the coating is, or has been, applied correctly and is fit for purpose, removing the need for guesswork.
---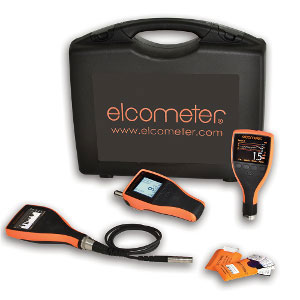 Available as a Basic or Top version, these digital inspection kits have been specifically designed to undertake the three principal inspection requirements in the Protective and Industrial Coatings Industry – climate, surface profile and dry film thickness.
Inspection kit containing entry level digital inspection equipment designed for users who want to carry out key inspection tasks.
---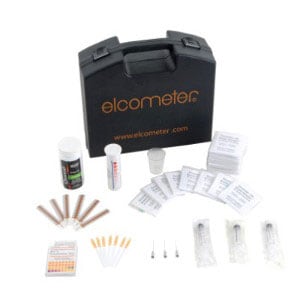 Elcometer carries a range of kits suitable for measurement of pre-coating surface contamination.
It is essential that the level of contaminants on a surface is measured prior to application of the coating to ensure the quality of the coating and that its optimum lifetime is achieved. If the coating is applied to a contaminated surface, which is not properly prepared, it could fail prematurely resulting in costly re-coating and high maintenance costs.
---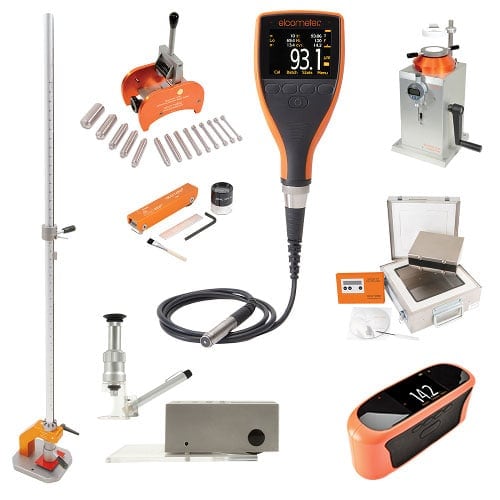 The Qualicoat Organisation brings together the ideals of several national coating associations into one quality label for the powder coating applied to aluminium architectural applications. The aim of Qualicoat is to establish the minimum standard that plant installations, coating materials and finished products which have been powder coated must meet.
Within this quality label, Qualicoat identifies a range of inspection requirements to be undertaken with regards to the quality control of powder coated products.
The Elcometer Qualicoat Powder Coating Inspection Kit provides the various test instrumentation required to meet the high standards of this organization.
---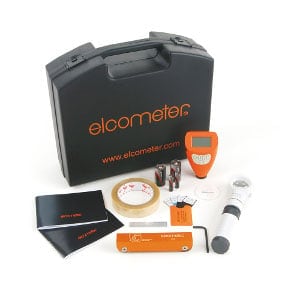 To cover all eventualities in the powder inspection process, Elcometer has produced a kit to enable the inspection of powder coatings on all surfaces.
---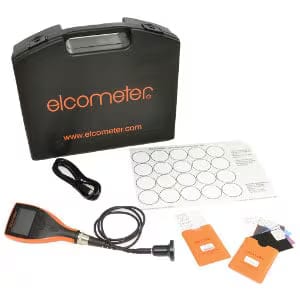 Controlling ducting deposits and monitoring their build-up is essential to maintain hygiene standards and reduce fire risks in heating and ventilation systems.
The Elcometer 456 Duct Deposit Measuring System has been specifically designed to meet the requirements of the DTT (Deposit Thickness Test) in HVCA's (Heating & Ventilation Contractor's Association) Guide to Good Practice, for the measurement of dust and grease deposits within ventilation systems and kitchen ducts made of ferrous metals.
---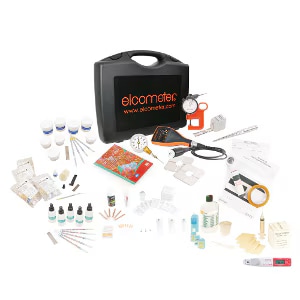 The Elcometer Blasting Inspection Kit is a surface preparation inspection kit providing a range of inspection equipment to test surface profile and surface contamination of blasted profiles.
An Elcometer 456 Gauge and probe can also be supplied. (Order separately if required.)
Measurement parameters include:
Surface assessment
Blast equipment inspection
Surface profile
Surface contamination
---