Product Description
[Error processing dynamic tag getCurrentAttribute('item', 'category_display') : record invtpart 4899 not found]
Pre-calibrated with 4 profile ranges to ensure accurate coating thickness measurement on blasted steel substrates, the Elcometer 456 IPC Thickness Gauge is fast and very easy to use. If you are interested in more features such as Individual batch calibrations; sent to PC via ElcoMaster® software, Gauge & batch specific limits and Date and time stamp check Dry Film Thickness Gauge | Elcometer 456 IPC
Profile Ranges
The user selectable surface profiles include smooth, fine, medium and coarse ranges. The gauge's built in integral ferrous probe allows thickness measurements to be taken on flat or curved surfaces, in mils or microns.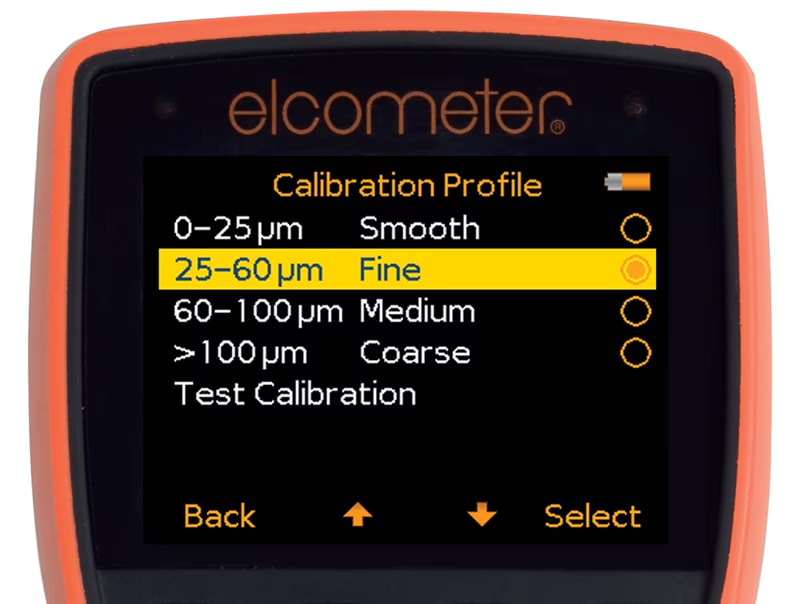 With a reading rate of 70+ readings per minute, the gauge displays three individual thickness readings together with the average.
Coating thickness readings can be transferred via Bluetooth®, or your own software application, for instant report generation.
Key features of the Elcometer 456 IPC Dry Film Thickness Gauge include: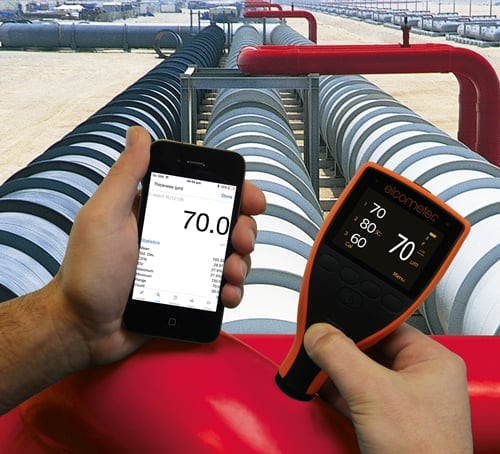 Pre-calibrated with 4 profile ranges
Displays 3 individual readings together with their average in microns or mils
Built in integral probe for stable, repeatable readings on flat or curved surfaces
Easy to use menu structure in multiple languages: English, French, Spanish, German, Chinese & Japanese
USB or Bluetooth® data output to the ElcoMaster® or your own software application
Elcometer 456 IPC: Made for iPhone 6 Plus, iPhone 6, iPhone 5s, iPhone 5c, iPhone 5, iPhone 4s, iPhone 4, iPad Air 2, iPad mini 3, iPad Air, iPad mini 2, iPad (3rd and 4th generation), iPad mini, iPad 2, and iPod touch (4th and 5th generation).
"Made for iPod," "Made for iPhone," and "Made for iPad" mean that an electronic accessory has been designed to connect specifically to iPod, iPhone, or iPad, respectively, and has been certified by the developer to meet Apple performance standards. Apple is not responsible for the operation of this device or its compliance with safety and regulatory standards. Please note that the use of this accessory with iPod, iPhone, or iPad may affect wireless performance.
iPad, iPhone, and iPod touch are trademarks of Apple Inc., registered in the U.S. and other countries. App Store is a trademark of Apple Inc., registered in the U.S. and other countries. Suitable for mobile devices running Android™ software version 2.1 and upwards. Android™ and Google Play are trademarks of Google Inc.