Related Product(s)>>
>>Download Full PDF
Visual appearance can determine a person's perception of a product. Perception is subjective. A key measurement parameter used to define and quantify a product's overall visual quality is gloss.
The Elcometer 480 range are easy to use glossmeters which combine high accuracy, repeatability and reproducibility with functionality making them the most advanced glossmeters on the market today.
Highlight Features:
Small, robust & ergonomic
3 - 10 readings per second
Repeatable, reproducible & accurate
Multiple angles; 20°, 60°, 85°
40,000 reading memory in up to 2,500 batches
Date and time stamped readings
USB & Bluetooth® data output
PC, iPhone or Android™ compatible
Automatic gauge & tile diagnostics
Auto calibration tile recognition via RFID*
40 user definable limit standards
Standard, auto repeat and scan modes
Differential mode with pass/fail
Display readings, statistics, graphs & batch review
Gloss is measured by directing a constant intensity light beam, at a fixed angle, on to the test surface and monitoring the amount of reflected light from the same angle. This specular reflectance is measured using a gloss meter.
Different surfaces require different reflective angles.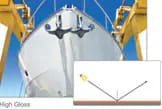 High Gloss
Surfaces with brilliant or highly polished finish reflect images clearly. This distinct reflection is caused by the incident light reflecting on the surface in a specular direction.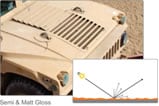 Semi & Matt Gloss
Semi and matt surfaces reflect images less distinctly and with reduced intensity.
On semi or matt surface light not only reflects in a specular direction but also is scattered causing the reflected image to appear diffused.
Choosing the Correct Angle for Gloss Measurement
Gloss measurement is based on the amount of light reflected on the surface relative to a polished glass reference standard, measured in Gloss Units (GU). The amount of light that is reflected on the surface is dependent on the angle of incidence and the properties of the surface.
Gloss is categorized as either matt, semi or high gloss. In order to determine the most appropriate measurement angle start with a gloss meter set at 60degree angle of incidence.
If the result is between 10-70GU, the coating is termed 'semi-gloss' and should be measured using the 60degree angle. If the result is less than 10GU, the product is 'low gloss' and should be measured using the 85degree angle and if it is greater than 70GU, the product is known as 'high gloss' and should be measured using the 20degree angle.
| | | |
| --- | --- | --- |
| Gloss Range | 60° value | Measure with |
| High Gloss | > 70GU | 20° |
| Semi Gloss | 10 - 70GU | 60° |
| Low / Matt | < 10GU | 85° |
% Reflectance (%)
% Reflectance compares the amount of light energy transmitted and received by a gloss meter and expresses the value as a percentage. The shiner a surface is, the closer the value will be to 100%.
While the Gloss Unit (GU) scale is linear, each angle of incidence has a difference measurement range; 0 – 2000GU (20degree), 0 – 1000GU (60degree), 0 – 160GU (85degree).
%Reflectance displays the measurement value as a percentage relative to the selected angle of incidence. For example, a value of 1000GU at 20degree would be express as 50%20.
Haze (HU)
Haze causes a drop in reflected contrast and causes 'halos' to appear around the reflected light sources, dramatically reducing the visual quality.
In accordance with ASTM D4039 haze is defined as the numeric difference between the specular reflectance at 60degree and 20degree.
This is expressed in Haze Units (HU).
The Model Range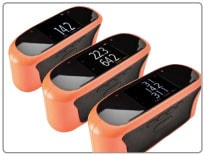 The Elcometer 480 is available as either a simple entry level 60° glossmeter or state of the art Single, Dual or Triple angle variants.
Single: 60°
Dual: 20° & 60°
Triple: 20°, 60° & 85°
Memory and Batching
Store 40,000 date and timed stamped readings in up to 2,500 user definable alpha-numeric batches.
Readings can be transferred to PC, iPhone, Android™ or other mobile devices via USB or Bluetooth® for instant reporting using ElcoMaster™ software.

Display Modes
Fully customizable, scratch and solvent resistant color LCD allows the user to display:
Gloss, % Reflectance or Haze readings
Statistics
Readings and Differential with pass/fail
Trend Graph
Analogue Scan Bar
Standard, Auto Repeat & Scan Modes
No two inspections are the same. It is for this reason that the Elcometer 480 is equipped with three measurement modes:
Standard Mode: Press the measure button to take an individual spot measurement.
Auto Repeat Mode: When the glossmeter is slid over the surface a measurement of all three angles is automatically taken at a user definable rate between 10 - 180 readings per minute. When enabled, all the individual readings are stored into memory.
Scan Mode: As the glossmeter slides over the entire surface area the gauge measures all three angles at a continuous rate of 10 readings per second. When stopped, the gauge displays and stores the average, highest and lowest values - ideal for checking a sample's overall uniformity.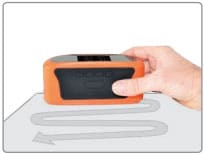 Accuracy & Repeatability
Advanced electronics and a superior optical design combines highly accurate, repeatable and reproducible measurements with industry leading inter-instrument agreement - across its entire 0 - 2,000GU range.
Limit Standards and Differential Mode with Pass/Fail
When visual appearance is critical Master Standards are created. These are generated and approved by the customer and then used by manufacturers as part of their quality control inspection regime. As these Master Standards have been visually approved they often do not have numerical gloss values assigned.
In order to avoid subjectivity between inspectors, the Elcometer 480 can automatically generate and store the nominal (target), highest & lowest acceptable gloss values (Limits) from the Master Standard.
Up to 40 Limits for each customer's Master Standards can be stored within, and recalled from, the gauge's 'Limit Standard' memory.
When Limit Standards are used in combination with the gauge's Differential Mode, the Elcometer 480 displays the measurement value together with the difference from the nominal (target) value.
Readings outside the Limit Standard are displayed in red, providing quick Pass/Fail analysis.
Due to the Elcometer 480's industry leading inter-instrument agreement, once a Master Standard Limit has been created, the gauge can transfer these values to other Elcometer 480 glossmeters, via the ElcoMaster™ software's Library of Limit Standards, at any time.
Information from multiple glossmeters can be combined into a single inspection report within ElcoMaster™, ideal for multiple production and assembly lines.
Related Product(s)
Download Full PDF