The new Elcometer 130 Soluble Salt Profiler allows you to complete a Bresle equivalent test in just over two minutes.
The multi-point conductivity sensors enable the Elcometer 130 SSP to accurately display salt concentration, showing exactly where the contamination lies and generating full colour salt density maps in 2D or 3D.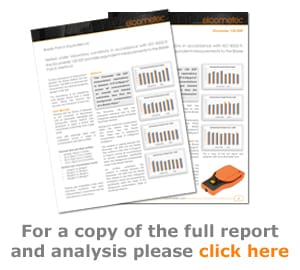 "Four Bresle equivalent readings in 2½ minutes"
Each filter paper is the size of four Bresle patches - the Elcometer 130 Soluble Salt Profiler not only displays the individual reading, but also provides four Bresle equivalent readings in just over two minutes.
View the Elcometer 130 SSP Bresle Patch Equivalence report.
"The new Elcometer 130 SSP doesn't just measure the level of soluble salts"
In addition to soluble salt levels (cleanliness) or conductivity, the Elcometer 130 SSP carries out a detailed analysis of the test area - providing an accurate salt density profile map, pinpointing areas of high contamination outside user defined limits.
"Accurate in all environments"
This new, easy to use, Elcometer 130 SSP has automatic temperature compensation ensuring accuracy in all climatic conditions. Impure water can be offset for accurate and repeatable readings.
"Each gauge is designed to last"
Robust, durable & water resistant, the new Elcometer 130 SSP is available with a 2 year manufacturer's warranty; giving you peace of mind.
"Generate instant reports on your PC, Android™ or iOS mobile devices"
The Elcometer 130 SSP wirelessly transmits readings, statistics and batches via Bluetooth® or via USB straight into an inspection application or into ElcoMaster®, Elcometer's Mobile App, for instant report generation at your desk or, using your mobile, in the field.
What you do with the collected data is just as important as taking the readings themselves.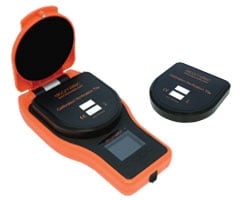 "Calibration verification - peace of mind"
A Calibration Verification Tile is available for verifying the accuracy of the gauge whilst out in the field and the verification date is recorded for use in reports.
Calibration Verification Tile available for verifying the accuracy of the gauge.
Key features of the Elcometer 130 Soluble Salt Profiler include:
Range of measurement modes:

Cleanliness: two measurement options are available when measuring soluble salts – Bresle Method Equivalency or Elcometer 130 Equivalency mode
Conductivity: ideal for measuring ionic contaminants, sometimes referred to as total dissolved solids –TDS, within a solution

Multi-point conductivity sensor allows the trend in conductivity to be displayed as a density map
Automatic temperature compensation ensures accurate results
Large colour LCD screen displays readings in µg/cm², ppm, µS/cm, mS/cm, % salinity or mg/m²
Stores up to 3,500 sets of readings in 1,000 alpha numeric batches
Non-oxidising gold plated contacts ensure lifetime performance
Transfer data via USB or Bluetooth® to ElcoMaster® for instant report generation
Display Modes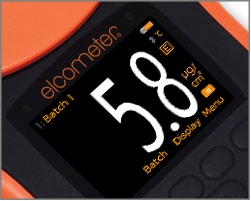 Large Single Reading
The reading value is displayed for the whole sample.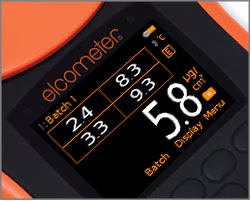 Four Bresle Patch Equivalent Readings
The measurement area is split into four Bresle Patch size quadrants and four Bresle Patch or Elcometer 130 equivalent readings are displayed simultaneously.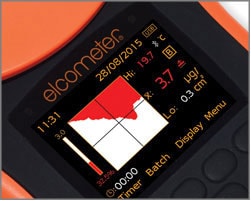 Pass/Fail to User Defined Limits
Provides a visual indication of salt contamination. Areas where soluble salts levels are above the limit set are shaded red, areas below the limit are white. The measurement bar to the left of the pass/fail map displays the limit (above the bar) and the percentage test area above the defined limit (below the bar). The bar is also a visual indication of the pass/fail percentage. The highest (Hi), lowest (Lo) and average (X) reading for the current measurement are displayed to the right.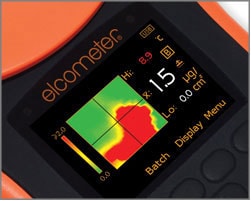 2D Salt Density Map with High/Low Readings
Levels of soluble salts are illustrated using a green and red contour system; green for very low salt concentration or uncontaminated areas; yellow for areas with mid salt concentration; and red for areas with levels of salt contamination exceeding the defined map scale range.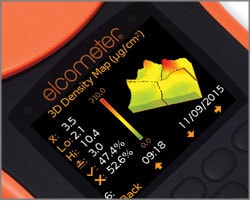 3D Salt Density Profile & Peak Salt Concentration (Hi)
Provides a visual indication of the density of salt contamination over the test area.
How to use the Elcometer 130 Soluble Salt Profiler
| | | |
| --- | --- | --- |
| | | |
| 1. Wearing clean disposable gloves (supplied), fill a syringe with precisely 1.6ml of deionised water. | 2. Using tweezers, remove a filter paper from the pack and place it on the cleaned, non-labelled side of the magnetic disc supplied. | 3. Disperse the water from the syringe, evenly across the whole of the filter paper and remove any bubbles from under the paper. |
| | | |
| 4. Place the magnetic disc, with wetted paper face down on to the area under test, pressing firmly into any contours or irregularities and start the 2 minute timer on the gauge. | 5. After two minutes, carefully remove the filter paper and magnetic disc from the test surface and place on to the measurement electrodes. | 6. As each filter paper remains on the surface for two minutes, multiple tests can be undertaken at the same time, reducing inspection times further. |
| | | |
| 7. Close the lid, ensuring that the magnetic catch is fully engaged, the gauge will begin measuring. | 8. The reading will be displayed on screen in the chosen display mode. | 9. Place the filter paper in a resealable bag (supplied), if required for further analysis. |
Elcometer 130 SSP: Made for iPhone 6 Plus, iPhone 6, iPhone 5s, iPhone 5c, iPhone 5, iPhone 4s, iPhone 4, iPad Air 2, iPad mini 3, iPad Air, iPad mini 2, iPad (3rd and 4th generation), iPad mini, iPad 2, and iPod touch (5th generation).
"Made for iPod," "Made for iPhone," and "Made for iPad" mean that an electronic accessory has been designed to connect specifically to iPod, iPhone, or iPad, respectively, and has been certified by the developer to meet Apple performance standards. Apple is not responsible for the operation of this device or its compliance with safety and regulatory standards. Please note that the use of this accessory with iPod, iPhone, or iPad may affect wireless performance.
iPad, iPhone, and iPod touch are trademarks of Apple Inc., registered in the U.S. and other countries. App Store is a trademark of Apple Inc., registered in the U.S. and other countries. Suitable for mobile devices running Android™ software version 2.1 and upwards. Android™ and Google Play are trademarks of Google Inc.