Rotational Viscosity
Rotational viscometers are used to determine the viscosity of liquids which do not depend solely on temperature and pressure.

Rotational viscometers consist of two parts - the head unit with a motor and a spindle that is driven by the motor. The viscosity is determined by measuring the resistance of the spindle as it rotates in the sample.

Rotational viscometers gather data on a material's viscosity behavior under different conditions and are used to measure the viscosity of non-Newtonian fluids which change viscosity when a force is applied.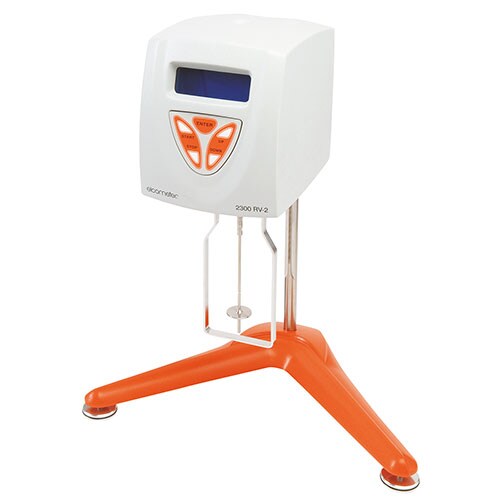 The Elcometer 2300 range of rotational viscometers determines the viscosity measurement in accordance with several standards.
Using a rotational viscometer, the properties of liquids and their resistance to shear or flow can be accurately measured.
Available in four models variants, with a large selection of speeds, spindles and accessories, this range of rotational viscometers ensures measuring the viscosity of liquids has never been easier.
---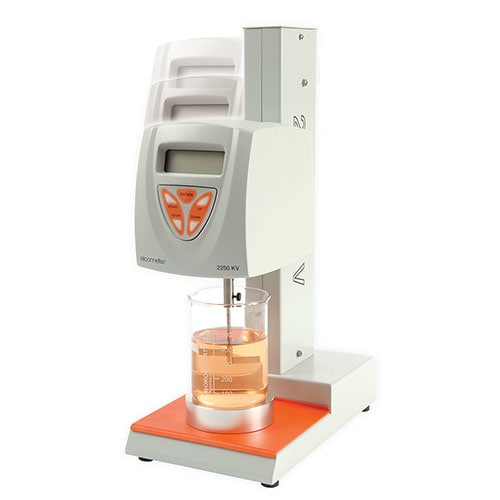 Featuring a unique automatic test mode, the Elcometer 2250 Krebs Viscometer measures the viscosity of paints, varnishes, adhesives, pastes and liquid inks at the touch of a button.
Designed to establish the viscosity measurement in accordance with National and International Standards, the Elcometer 2250 is ideal for both process control and quality assurance.
The Elcometer 2250 offers users both a fully automatic or manual Krebs viscosity test. The unit has a fixed spindle speed of 200rpm and displays the viscosity value on screen in Krebs Units (KU), Grams (g) or Centipoise (cP).
The Elcometer 2250 has two operating modes to conduct viscosity measurement; 'Automatic' and 'Manual'.
---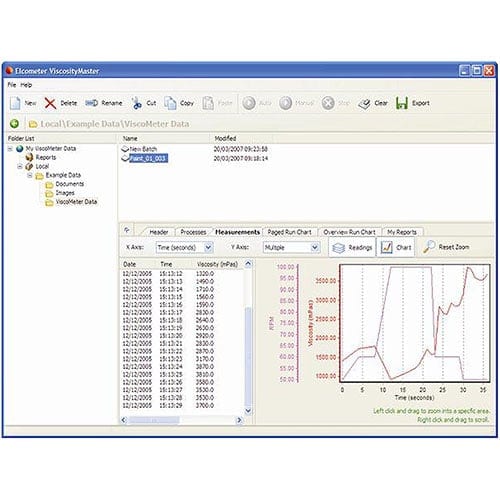 Please visit Elcometer.com or click here to download the ViscosityMaster Software.
ViscosityMaster™ is the powerful, yet easy to use software supplied with all Elcometer 2300 Rotational Viscometers. Specifically designed to maximise the versatility and usability of the viscometer, data can be stored along with associated images, test notes and all related test information.
ViscosityMaster™ makes it easy to collate and use the data recorded. Whether the data is required for analysis or to create professional reports for distribution to customers or colleagues, ViscosityMaster™ can deliver. With inbuilt report templates and easy access to all data, images and other associated files, ViscosityMaster™ makes managing data quick and easy.
---